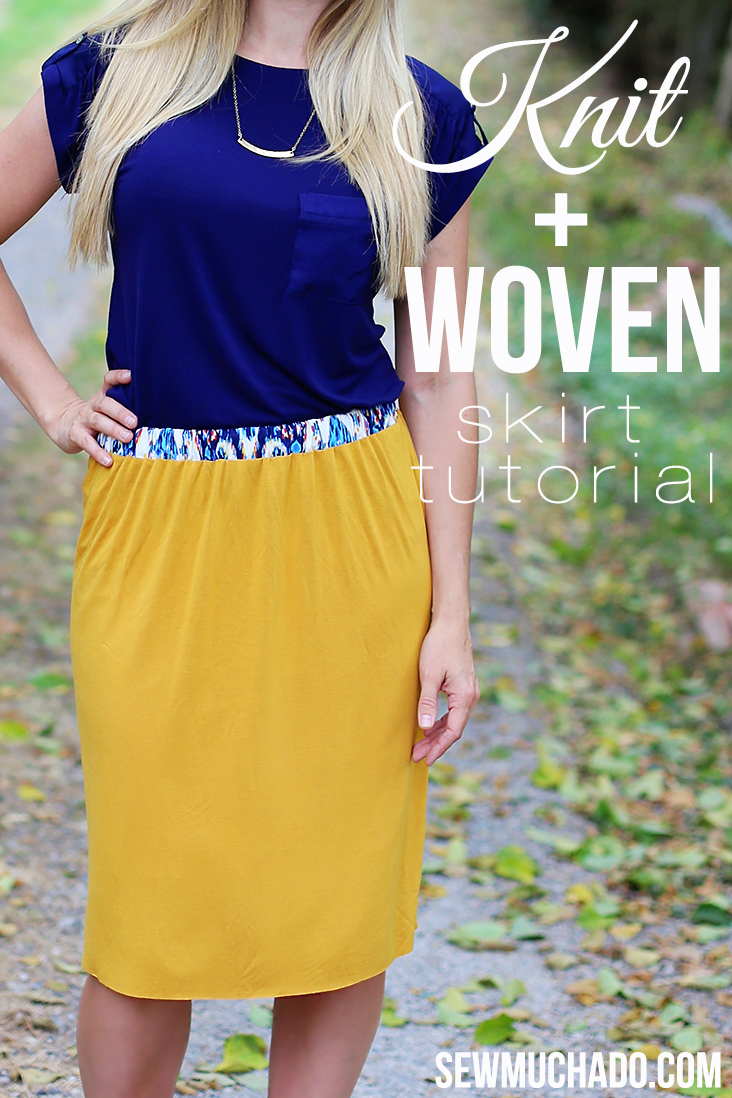 Hi guys! I hope you're all enjoying your summer so far. Ours' has been great, and I'm excited to pop in today for a very important project and share this Knit + Woven Skirt Tutorial with you. Elizabeth and liZ over at Simple Simon and Company host Skirting the Issue each year, which is a project that encourages sewers to make skirts for girls in foster care to wear for their first day of school (and beyond!). To get everybody going with ideas, they ask bloggers to join in and share skirt tutorials. That way, we can all work together and each up a pile of skirts to either donate to our local agencies, or mail to Elizabeth and liZ, who will donate the skirts for you.
I really wanted to make something that would appeal to teenage girls, and give them something to help them feel as beautiful as they are. I also wanted to make something that would be versatile, and could be dressed up or down, but wasn't boring!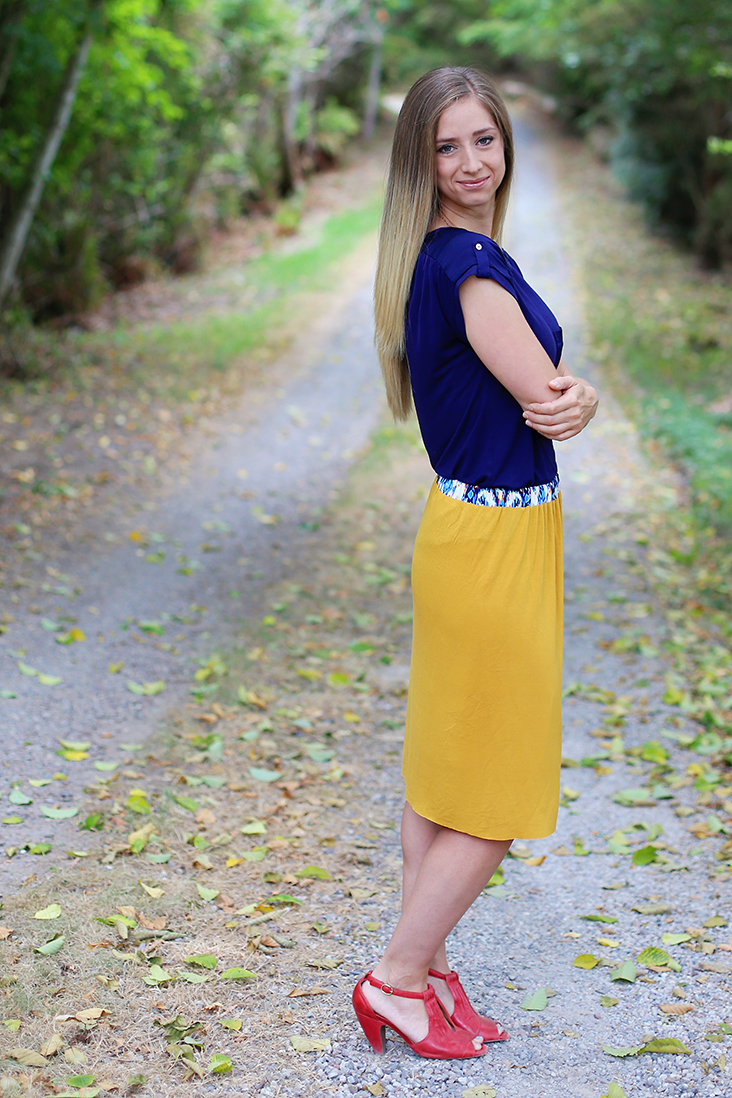 I decided to mix up a basic knit skirt and add a woven waistband. It's a great way to highlight a favorite print on a solid colored skirt, without going too print crazy. Girls in foster care often have limited wardrobes, and the more items a skirt can match with, the better.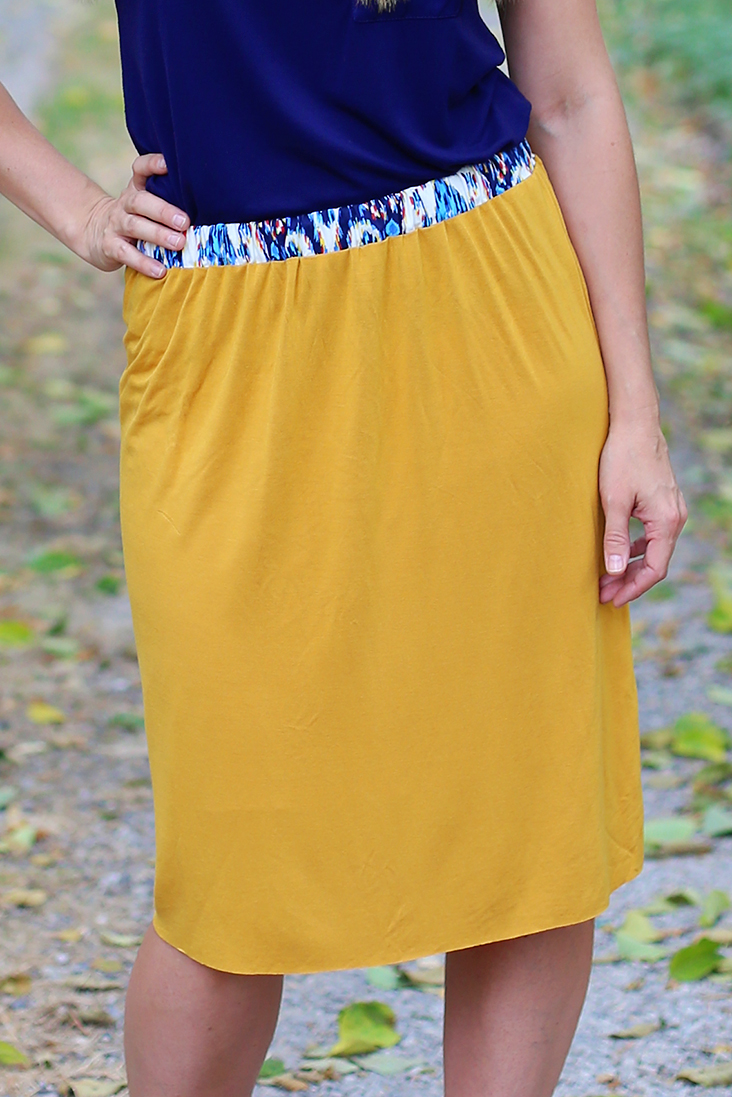 This skirt has slight gathers at the top, and is more fitted through the hips, but I love that the knit keeps it super comfortable without looking little-girly or frumpy.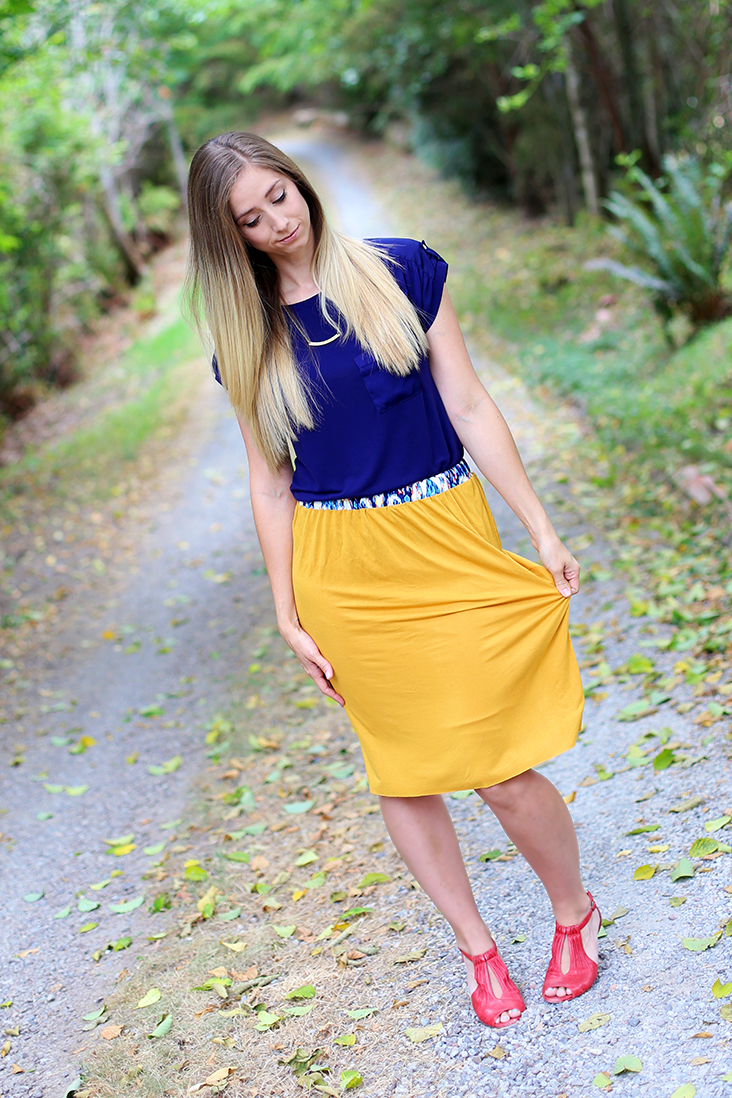 I'm excited to donate this skirt I've made, and I'll be whipping up a bunch more as well to go along with it!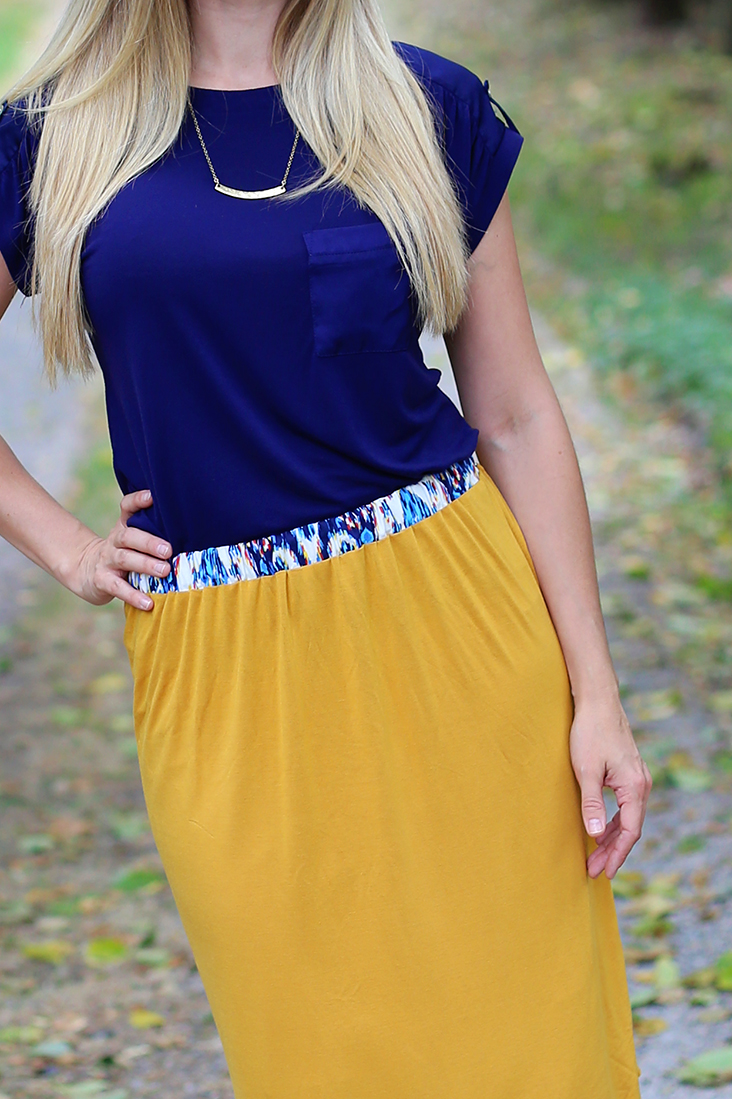 Let's get started – we'll be done before you know it!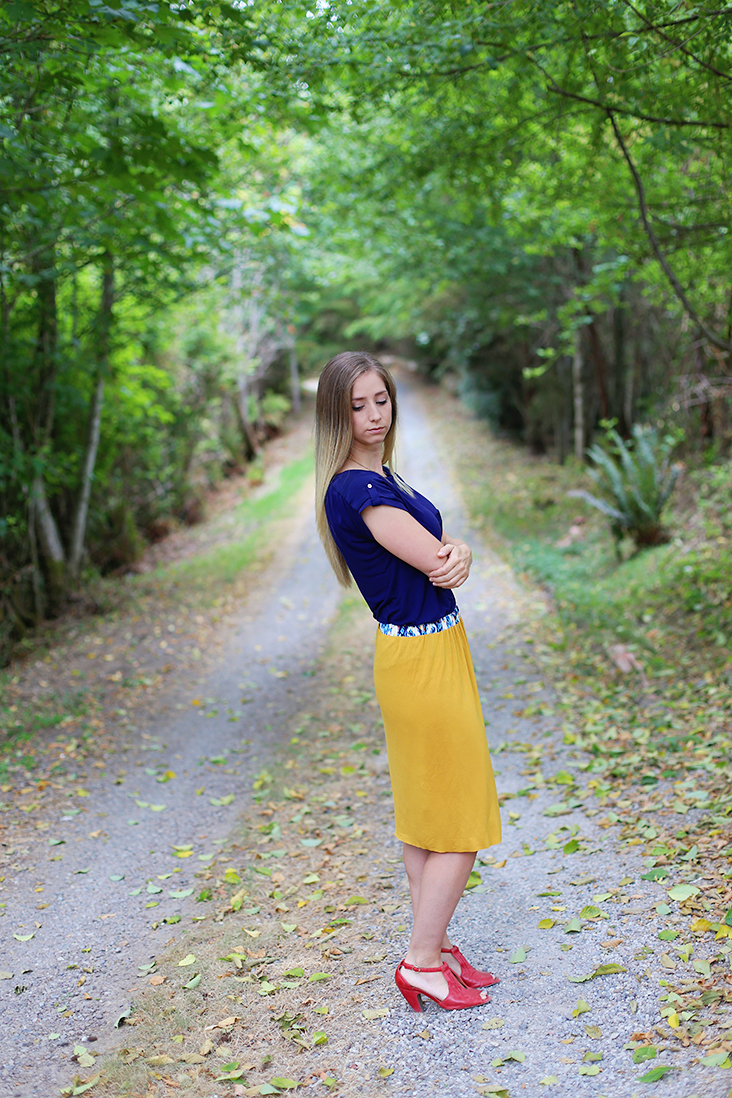 Materials:
45″ wide woven fabric (100% cotton or other apparel woven fabric): 1/8yd – I used an Amy Butler 100% cotton print
45-54″ wide knit apparel fabric (cotton jersey, rayon spandex blend, or other knit fabric with nice drape): amount will depend on size to be made – see chart for measurements to cut. I used a rayon spandex blend from Michael Levine that I've been saving since Fabric Weekend.
1″ wide elastic: see chart below for length needed

Cutting notes:
– When cutting skirt piece, ensure greatest degree of stretch is along the width of the skirt to allow the skirt to stretch around the body
– When hemmed, this skirt will hit near the bottom of the knee for an average height. You can adjust the length of the skirt piece as desired for a longer/shorter skirt.
– Note the sizes above are not women's sizes, but girls'. A size 18 on the chart above is similar to a women's size S (28″ waist).
*All seam allowances are 1/2″.*
Most of this skirt can be made with a serger, which is ideal for sewing with knits. If you are sewing with a regular machine, use a long and narrow zig zag stitch to allow the seams to stretch with the knit fabric.
Right sides together (RST), stitch short sides of skirt piece together, matching raw edges. A tube will be formed. If using serger, press seam to one direction, press seam open if stitching with regular machine.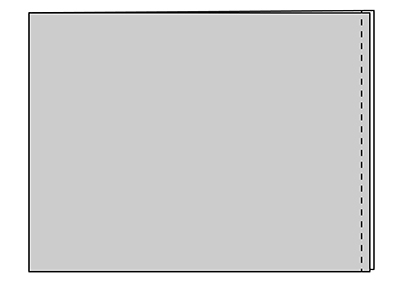 RST, stitch short sides of waistband piece together, matching raw edges.

Fold and press waistband in half, matching raw edges.

RST, pin waistband around top of skirt, matching seams and raw edges. Stitch along pinned edge, leaving 1-1.5″ opening near side seam to insert elastic.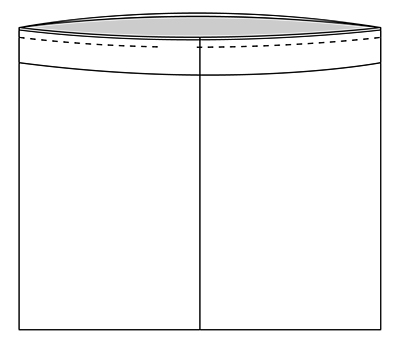 Use safety pin to insert elastic through opening in waistband, guiding through entire waistband and exiting out opening. Overlap elastic ends 1/2″ and zig zag stitch to secure in place. Stitch waistband to skirt along opening, closing opening and securing elastic inside.
If desired, press hem of skirt 1″ to wrong side and stitch in place using zig zag stitch, twin needle or coverstitch machine. Knits will not fray and do not need to be hemmed, but depending on the fabric used (some will roll at the raw edge rather than laying flat) and style of skirt, you can decide if you'd like to hem it or not. I chose to not hem this skirt because I liked the below knee length on me, but I think a teenage girl would prefer it a tad shorter, so I plan to hem it before donating it to my local foster care agency. It also makes it look a bit more professional, and the young lady who ends up with this skirt deserves the best!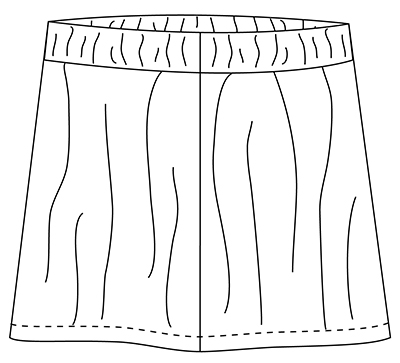 Thanks to the ladies at Simple Simon and Company for inviting me to participate in such a great project!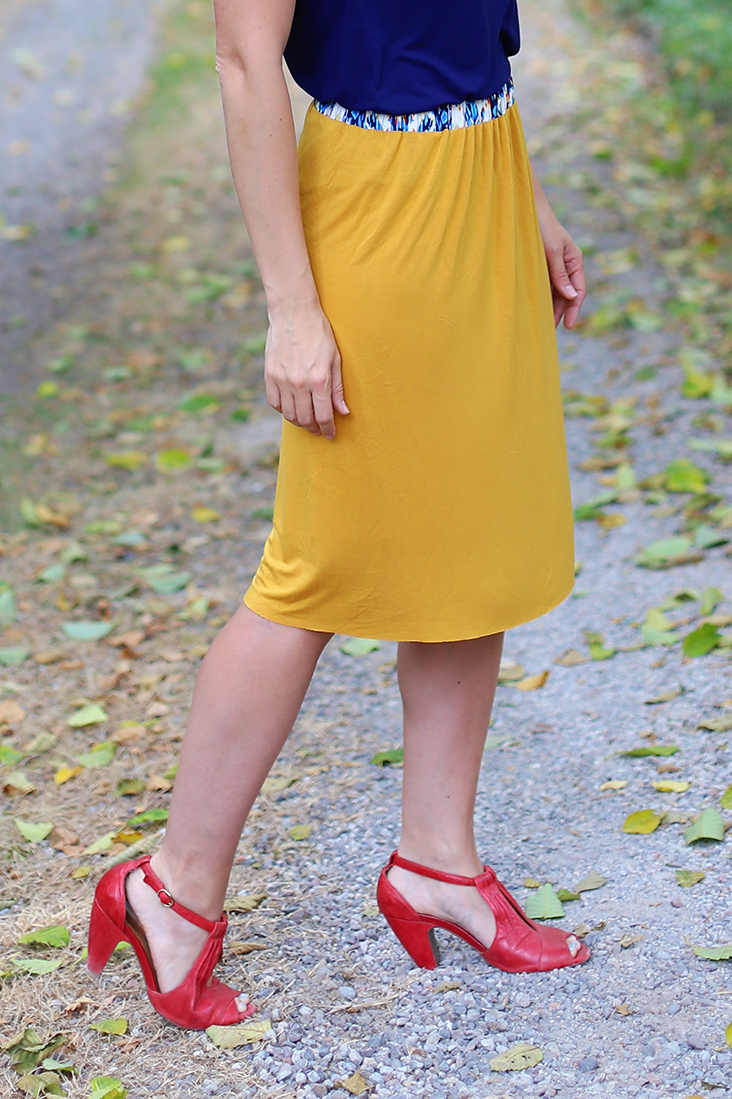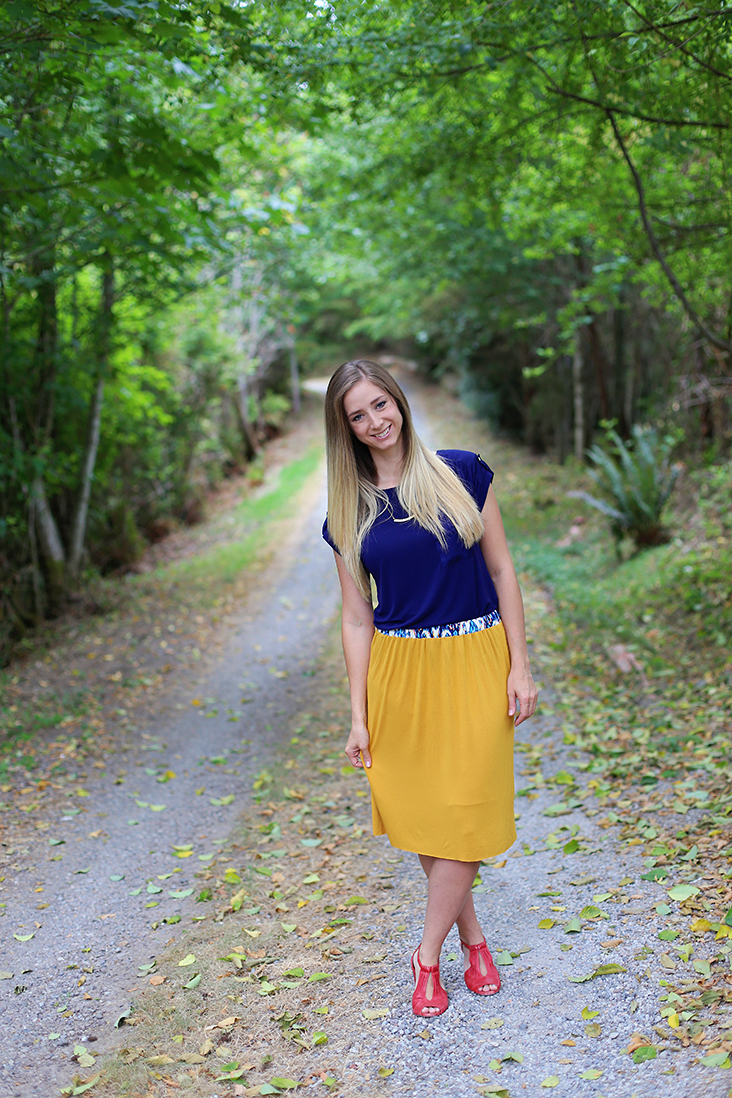 For more skirt ideas, check out our gallery of tutorials!