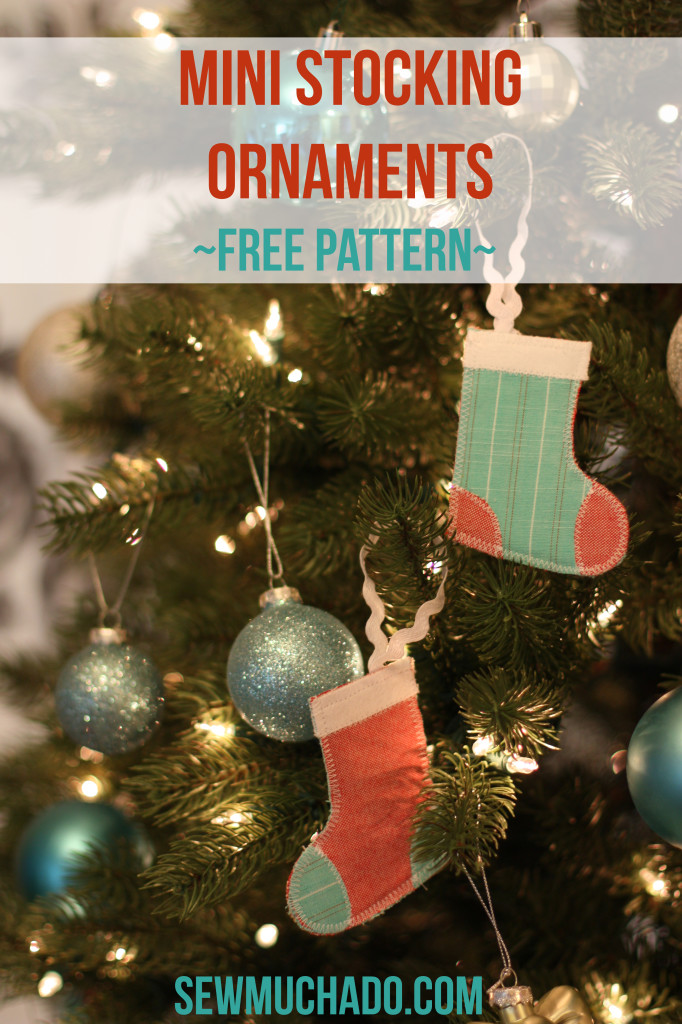 I'm excited to be participating in Jamie from Scattered Thoughts of a Crafty Mom's Holiday Sewing Blog Tour today! 18 holiday projects from all of the bloggers listed below!
I've been wanting to make some ornaments for my tree this year, and Jamie's series was a great excuse to finally make that happen. I decided on mini stocking ornaments. There are many crocheted and knitted versions online, but surprisingly, sewn versions seem to be few and far between.
I thought this would be the perfect opportunity to share a free pattern for mini stocking ornaments, so that you can easily make your own!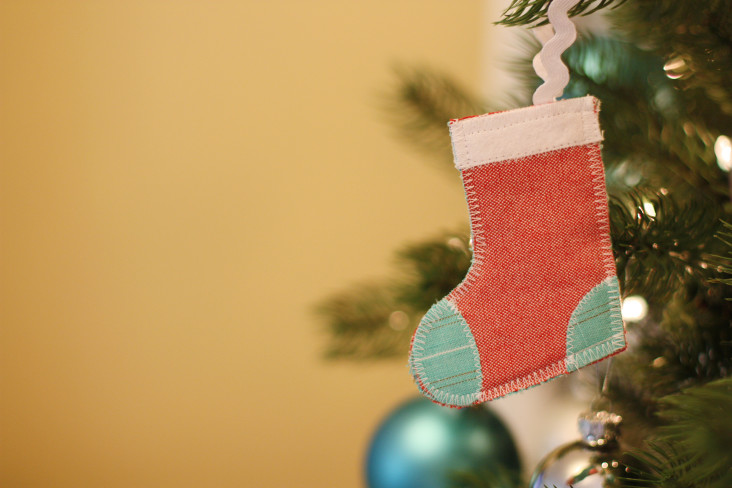 Here we go…
Materials:
fabric scraps – at least two coordinating fabrics (one for the stocking and one for the toe/heel contrast pieces)
white flannel scraps – for top of stocking
cotton batting scraps
Heat n Bond Lite
rick rack – 7″ length for each stocking
Following manufacturer's directions, press Heat n Bond to wrong side of fabrics. The amount of fabric and Heat n Bond will depend on how many stockings you're making at once – use the pattern pieces to make sure you have enough. For each ornament, you'll need two stocking pieces, two heel pieces, two toe pieces, and two top pieces.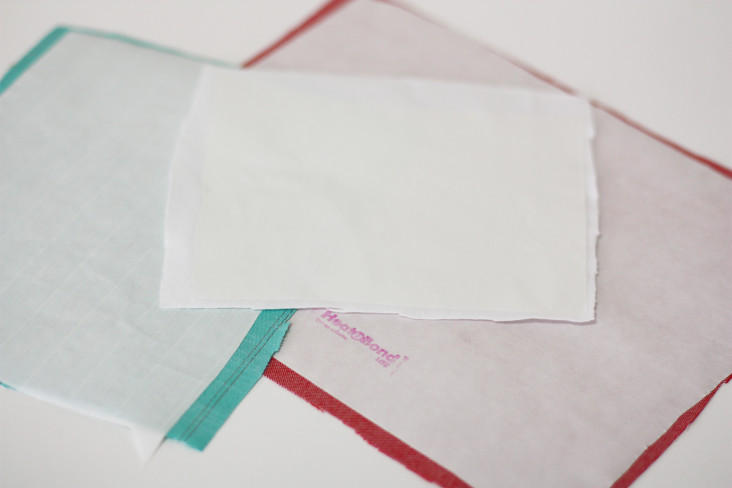 Cut pattern pieces out and trace onto Heat n Bond (wrong) side of fabrics. For each ornament, you'll want to trace one of each piece right side up, and for the second of each piece, trace it with the pattern piece upside down (I wasn't thinking and learned that the hard way the first time around). The two sides need to be opposite from eachother so that they can be joined wrong sides together. I made the front and backs different for each ornament (red stocking on one side and turquoise on the other), but you could also make them the same on each side, or mix it up however else you want!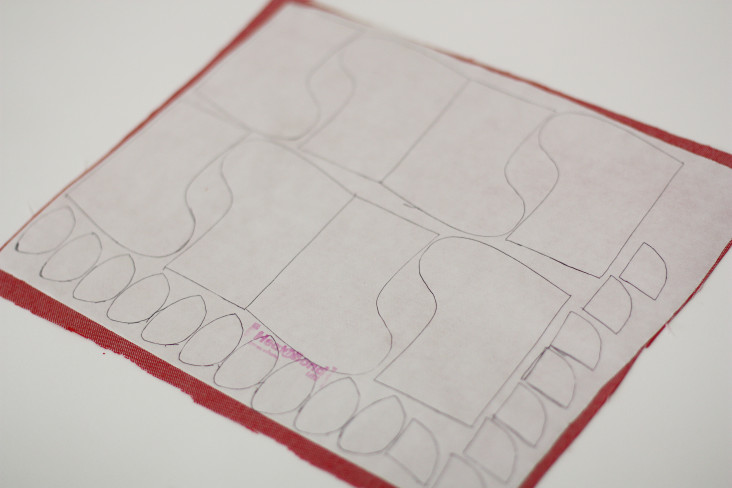 Cut all stocking, toe, heel, and top pieces out.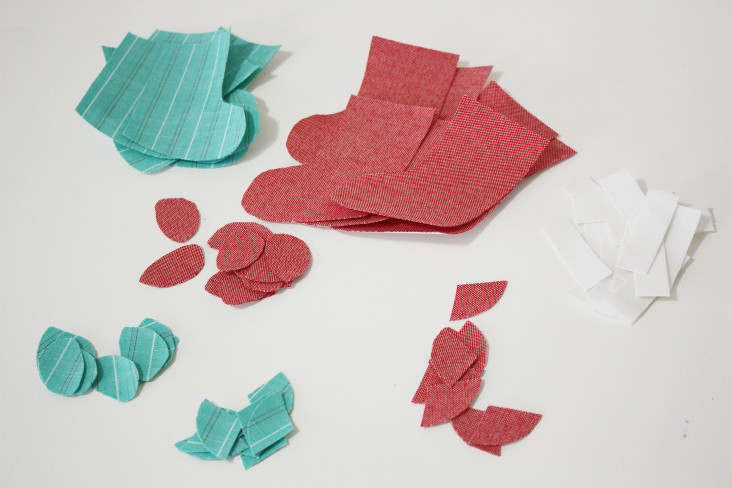 Cut one stocking out of cotton batting for each ornament you're making.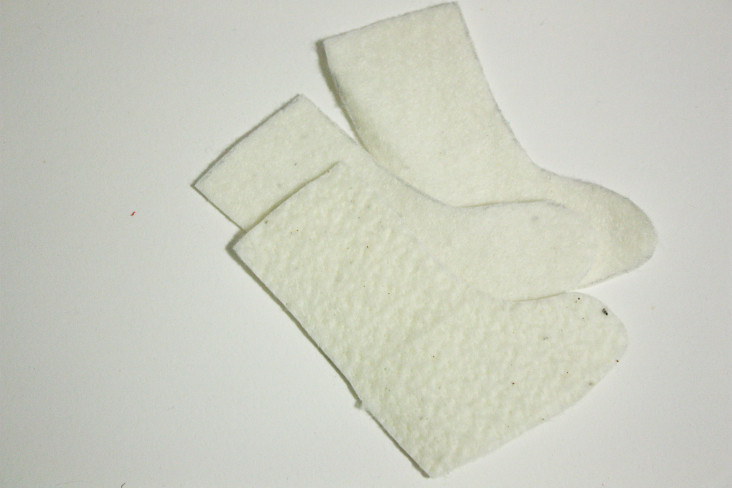 Remove paper backing from toe, heel, and top pieces, and press them onto the appropriate stocking pieces.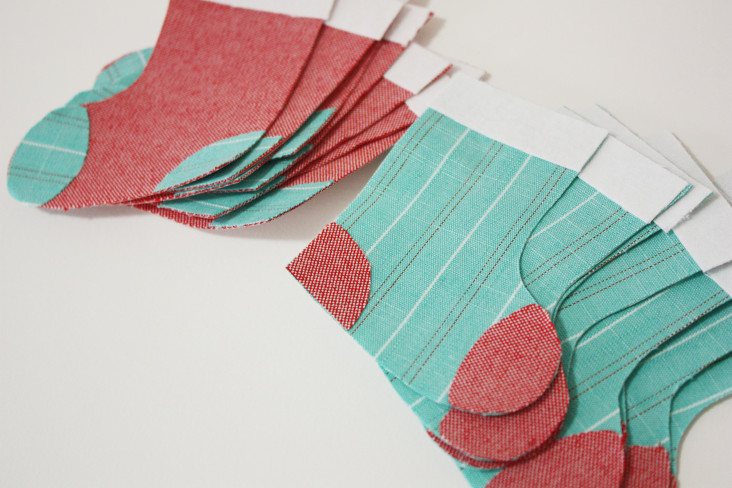 Remove paper backing from stocking piece and zig zag stitch around each toe, heel, and top piece along inner raw edge. The Heat n Bond will make it more difficult for your feed dogs to guide your fabric, but I was still able to navigate my pieces just fine. If it's more difficult on your machine, you can leave the paper on the stocking back and tear it off carefully after stitching the toe, heel, and top pieces on.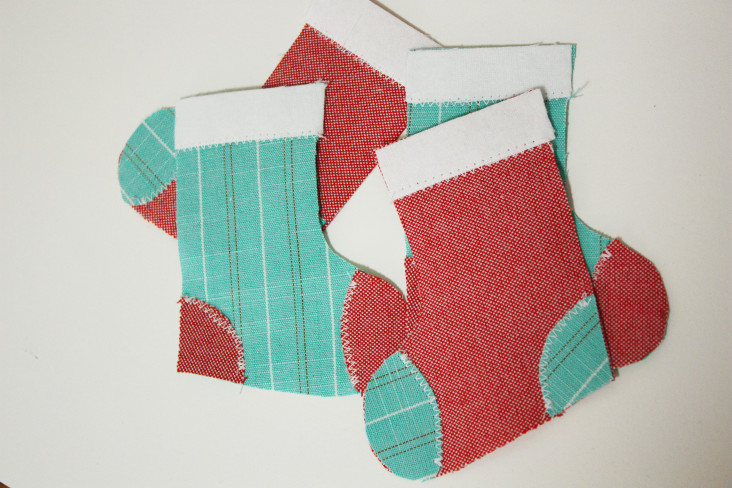 Sandwich the cotton batting piece between two stocking pieces, with front and back of stockings right sides out. Fold the rick rack (7″) in half, and sandwich 1/2″ of each end along the top of the ornament, between the front and back pieces.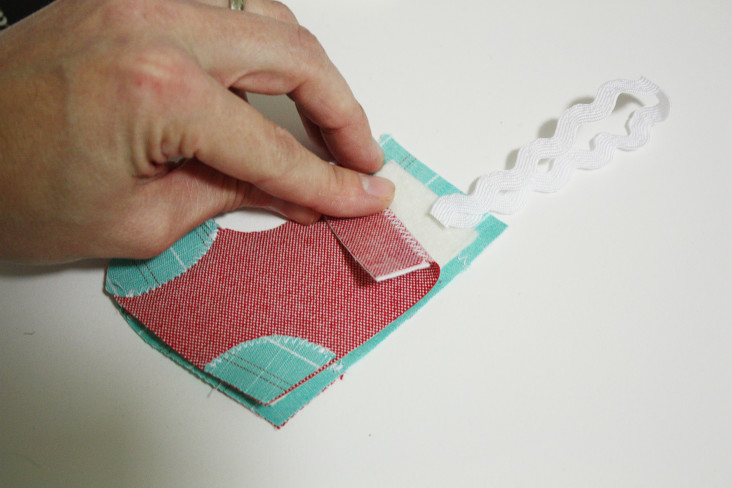 Press all layers together, allowing Heat n Bond to join front and back pieces and holding rick rack and cotton batting between the front and back.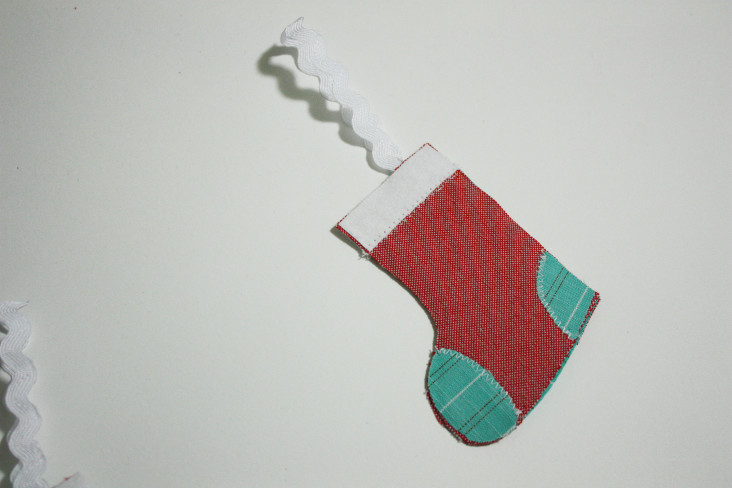 Zig zag stitch around entire outside edge of stockings, including top edge, through both front and back layers. This will also secure the rick rack in place.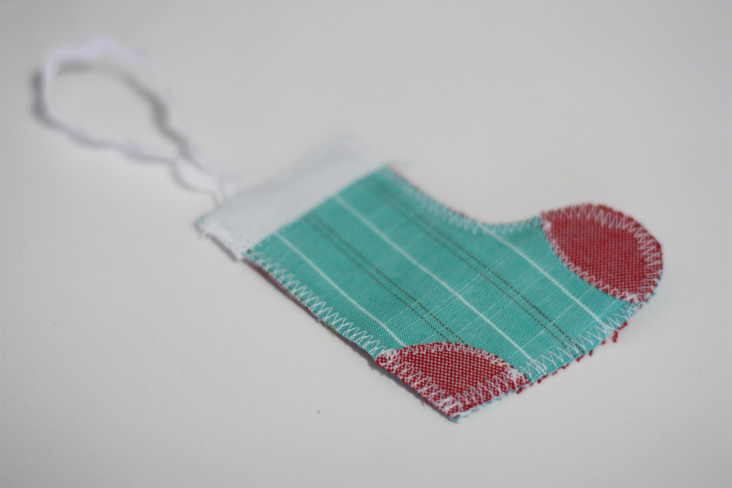 That's it! Make a few or make a bunch, and enjoy them on your tree!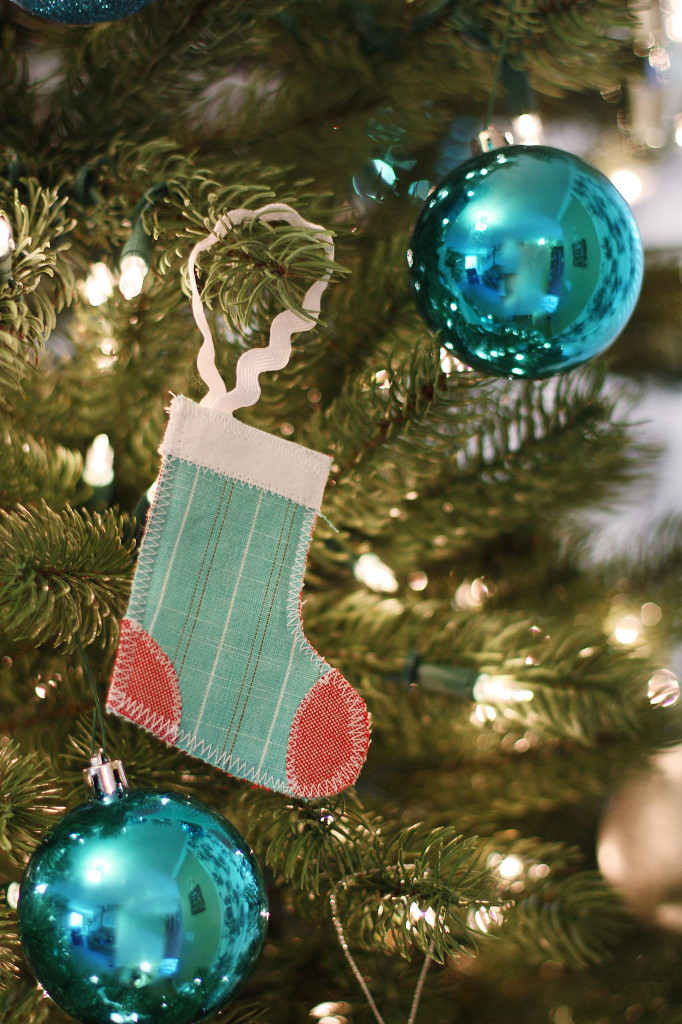 As part of the blog tour, Jamie is also giving away a serger! On December 21 she will be hosting a holiday sewing linky party, and will also be picking the winner of the serger, so make sure to head over to Scattered Thoughts of a Crafty Mom before the 20th to get your entry in!
Also be sure to check out yesterday's blog tour stop, Domestic Bliss Squared, and learn to make a one seam doll skirt! Sounds like my kind of project :).
And Mel from The Crafty Cupboard will be sharing this cute Felt Christmas Light Garland with everyone tomorrow!