It's done!  After re-doing the hem four times (yes, FOUR times — I told you I'm well aquainted with my seam ripper), my dress is done.  I finished it just in time for my brother in law's wedding this weekend, and have to say that it was so much fun to make.  If you missed it,
I was debating
between a couple of dresses to make (thank you SO much for all the suggestions!), and eventually decided to make one inspired by Anthropologie's Ruffle Plaid Dress: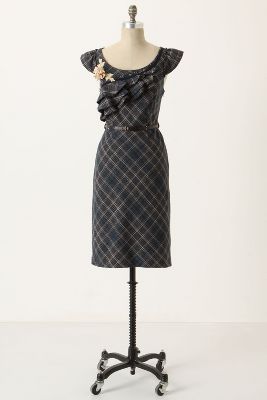 For my version, I used a charcoal herringbone fabric, although you can't see the detail in the photos.  I added cap sleeves, a higher neckline, and a flounce hem.  I also lined the whole dress, which makes it SO much nicer to wear.
I used my serger to do a rolled hem on all of the ruffles, which I have to say was a dream.  Since I was wearing flowers in my hair, I left off any fabric flowers on the dress (although I don't think I'll ever put any permanently on the dress).  And I found the belt at Forever 21 (cause we all are, right?) for $3.50 for a set of two.  I know it's off centered in the photos, but that's just the way things go sometimes :).
I think I'll be making some more dresses soon.  One of my goals this year was to sew more for myself, so at least I've done something towards that now.  Oh, and I've got a couple of other things I'll show you soon that I made for the wedding.
I'll be linking up to a few of
these
linky parties!
p.s. Sorry!  I accidently deleted the last 10 or so comments from this post, and when I restored them couldn't get the original dates and time back so they won't match up to when you wrote them :).
I am entering…