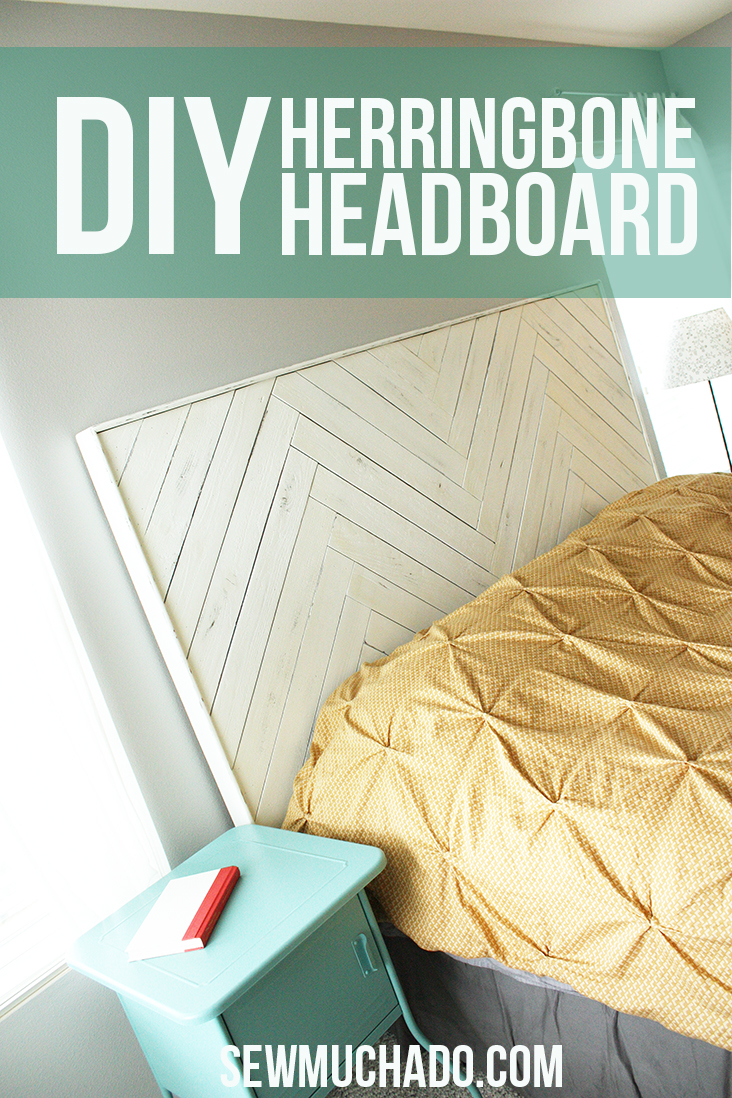 Today's DIY herringbone headboard project definitely ranks as one of my very favorite projects ever. You saw a peek of it in this post where I used it as the backdrop for some photos of Hattie. We started it back in October (which I was surprised to learn when I was looking back through the photos – time really does fly), and finished it just before Hattie was born.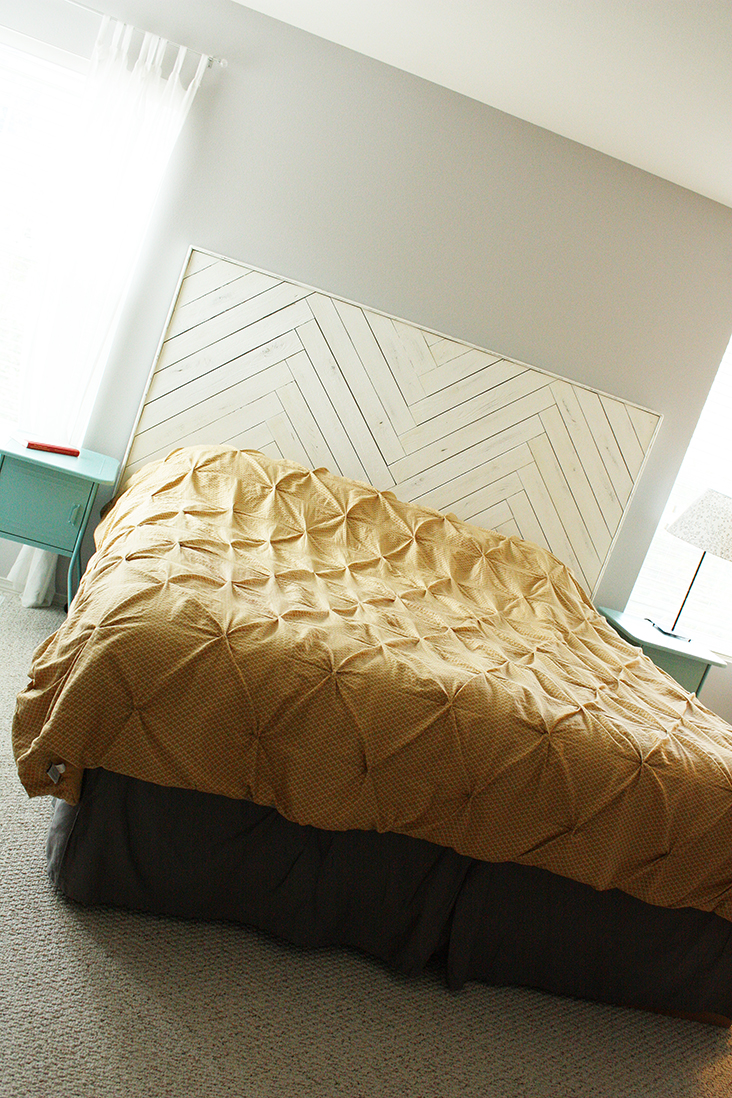 Isn't it pretty? I really love it. A lot. It's exactly what I had pictured in my head.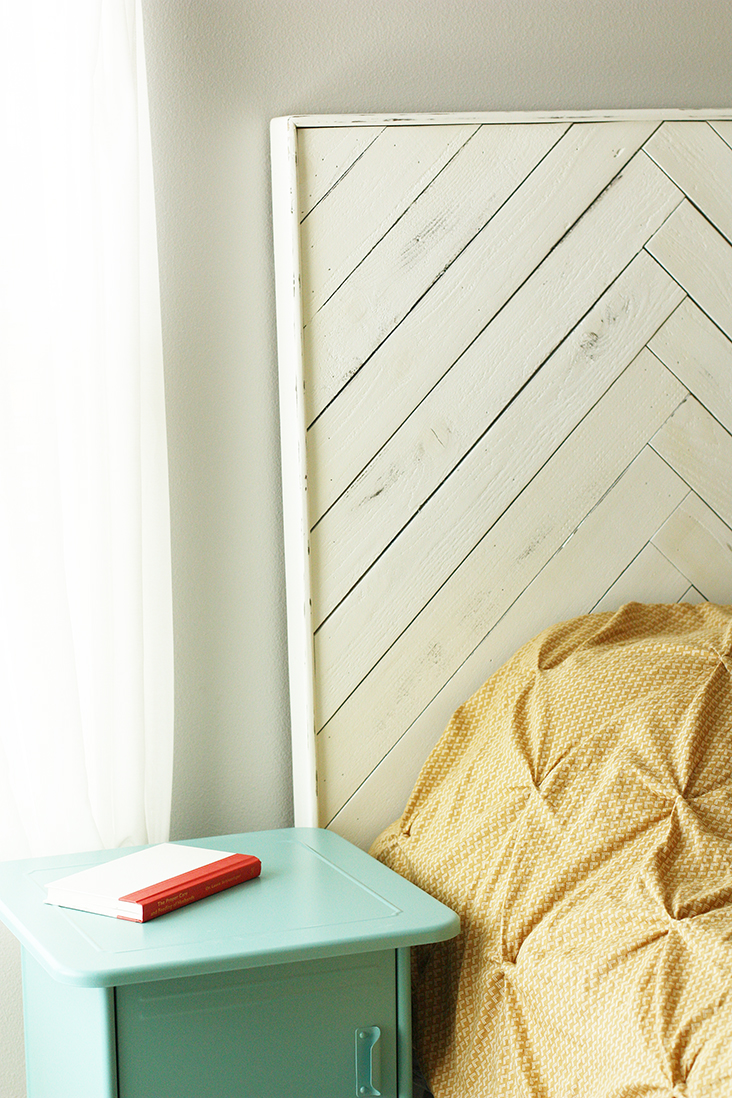 Joel drew up the plans for the herringbone pattern, making sure it would all be symmetrical, and we worked together to put the headboard together. I even did the nail-gunning, which is out of my normal comfort zone. I usually leave the power tools (other than the sander) to Joel, but with him cutting boards while I nailed them in place, it went together pretty quickly. As you can see, we attached the pattern to a plywood backing that Joel attached the legs onto.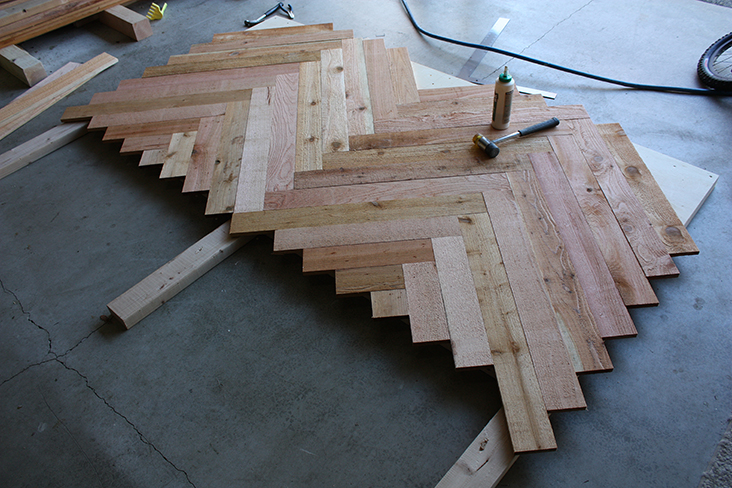 Joel trimmed the edges flat and added a border around the headboard, and then we brought it inside for a few months. The boards were damp when we bought them, and we wanted to make sure the cedar was really dry before it was stained and painted.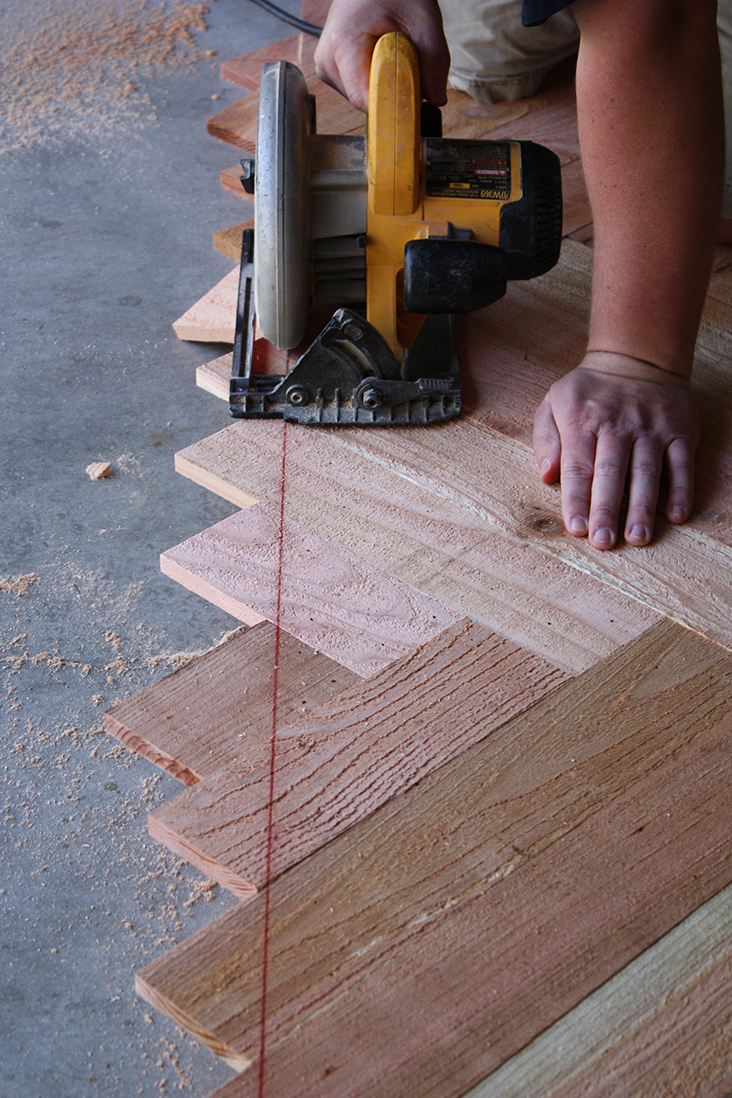 Once I could convince Joel to haul it back out to the garage for me, I stained the headboard dark walnut so that when it was distressed the dark would show through.
Next I covered the stain with white paint. I kind of liked the look after one coat, but decided to keep going. It took about 6 coats in all with our paint gun, I think, to get the coverage I wanted.
To give it an aged look, we distressed it by hand with sandpaper, bringing the dark stain back through the white.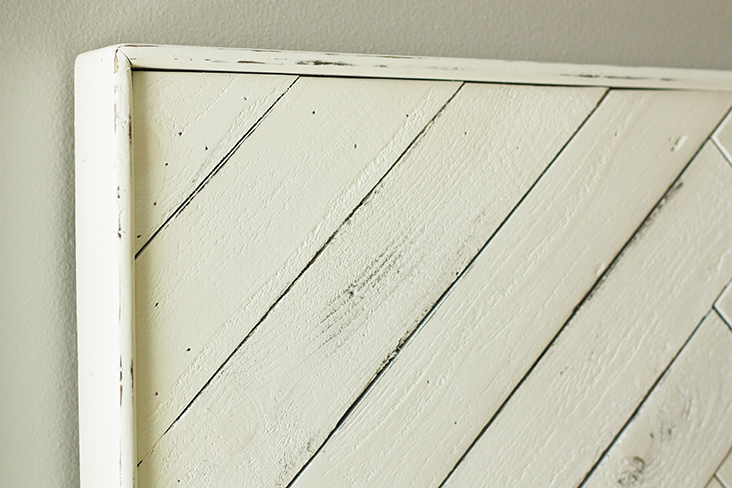 The headboard was finished off with several coats of satin Polyacrylic to protect it.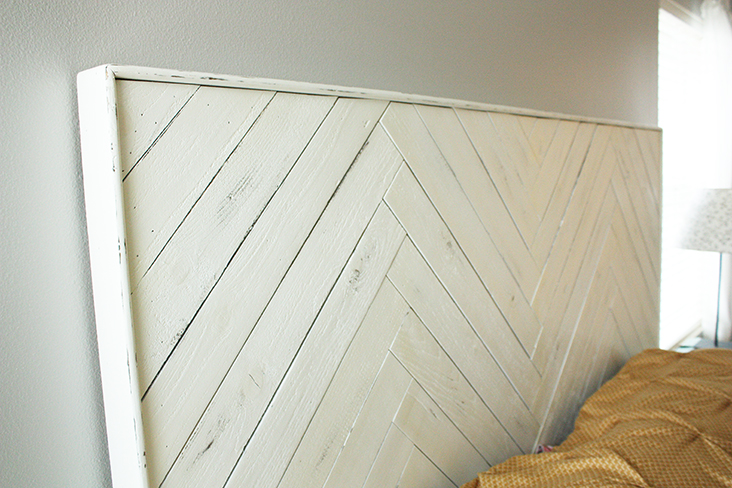 I had been looking for some bedside tables for quite some time, and was excited to find these little gems at Ikea one day recently. The lamps are also from Ikea, which I bought a couple of years ago.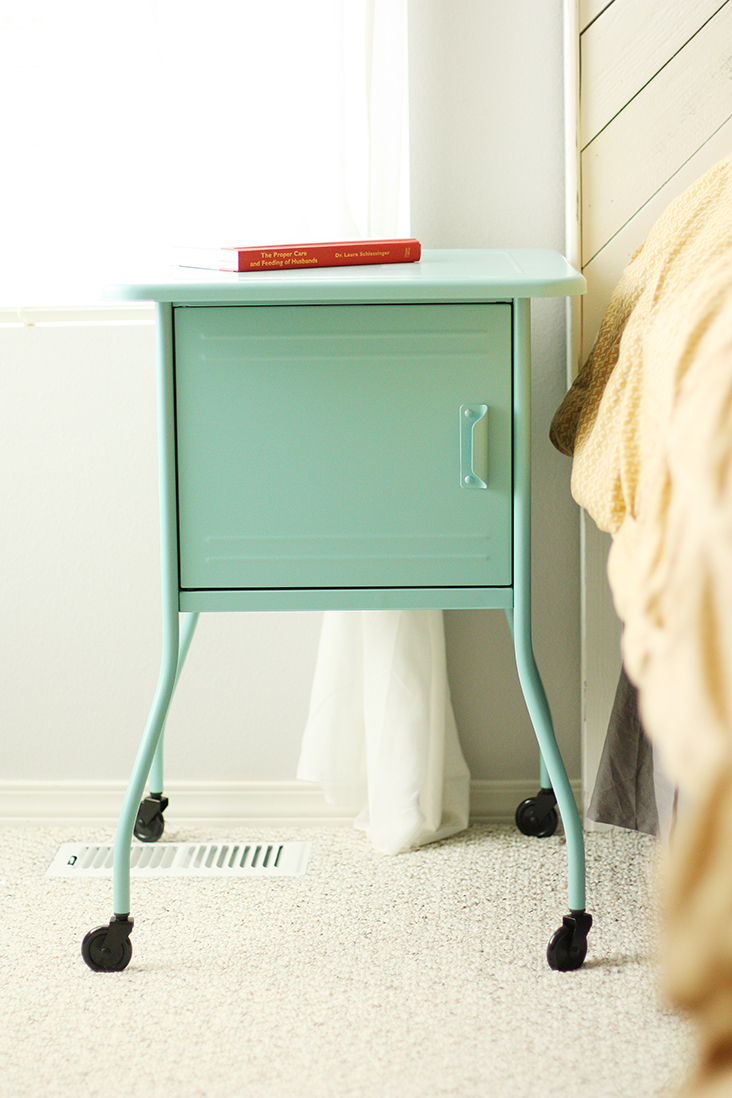 The bedspread is from Target, which I bought mostly because it was on clearance for $30, regular $100. I thought it would just be an extra for when we needed one, and didn't realize how much I would actually love it until I put it on my bed! Now it's my favorite.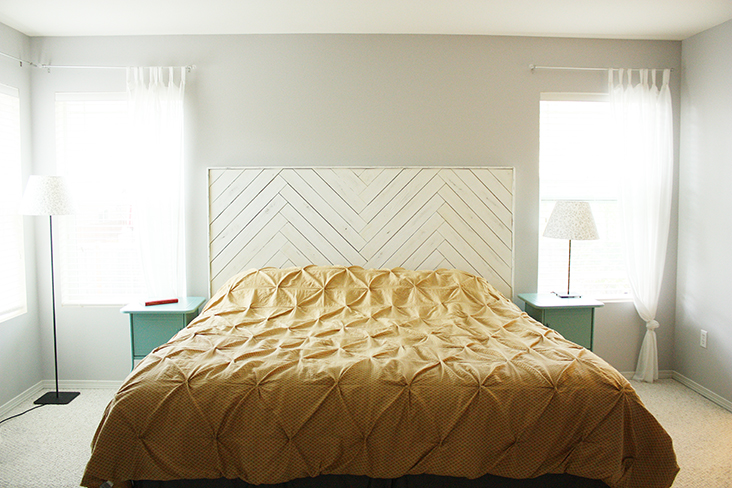 I couldn't have been happier when we finally got the headboard back into our bedroom, and even happier that we got it done before Hattie came along.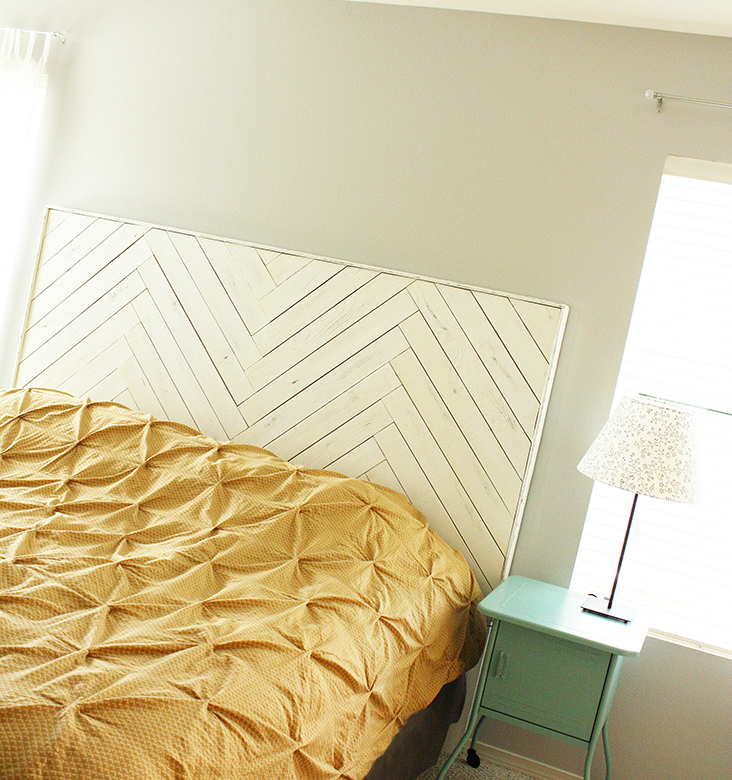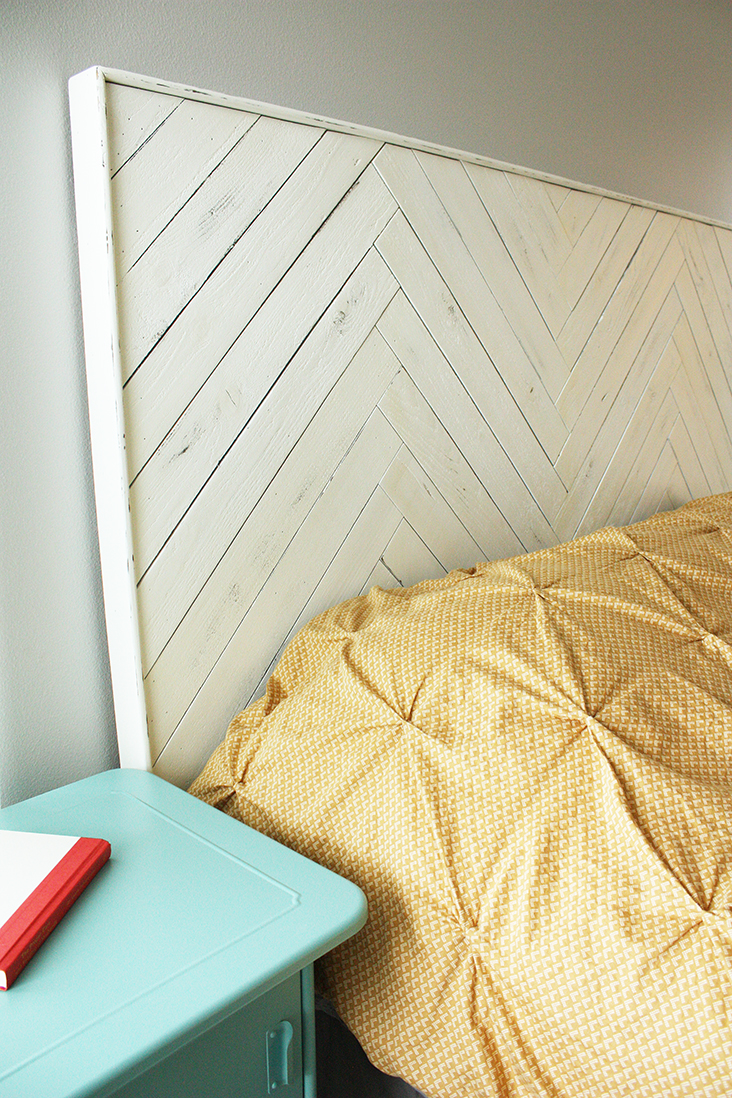 Update: My husband drew up the plans for the headboard in SketchUp, and here is a screenshot that shows measurements for placing the herringbone pattern correctly. This is for a king sized bed. If you make a DIY herringbone headboard of your own, I'd love to see how it turns out!